Liveries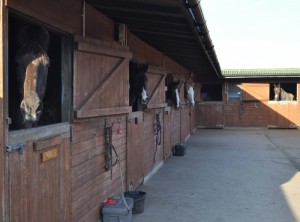 Although we'd all love to be with our horses 24/7, in today's busy world we all have hectic lifestyles that include work, holidays and the unexpected, so we offer a range of services which are flexible to ensure, if you are unable to attend to your horse, they are always looked after and cared for.
Our livery yard is a safe, caring and friendly environment where the safety and wellbeing of our horses and customers is paramount. The number of horses is limited to ensure clients can fully enjoy the facilities and that grazing paddocks aren't overcrowded. All our stables have rubber flooring and automatic water troughs
We only offer a Full Livery service which includes everything listed below:
Use of our floodlit 20 x 40 outdoor school.
Parking for a horse box or trailer
Use of school jumps and poles.
Immediate access to 5miles of private bridleways, and the beach.
Discounted hire of 20 x 40 indoor school
Discounted lessons on your horse
Tea/Coffee making facilities.
Opportunities to compete in school competitions.
Daily turn-out and turn-in
Mucking out.
Wood-pellet/Shavings bedding
Haylage and daily feed.
Secure tack storage facility.
For the welfare of all our horses, we do insist that your horse is included in our structured worming program.